Steinunn Sigurðardóttir is an Icelandic clothing designer which has worked for the likes of Calvin Klein, Gucci, Ralph Lauren and other known designers. She looks for inspiration in the Icelandic nature. She was raised by the sea so when she moved back to Iceland, and started her company "Steinunn", she moved her office to the seaside for inspiration. She told us how influenced she was by icelandic na
ture and how she missed it when she lived abroad. She showed us so many of her designs that were influenced by snow, lava, rivers and more.
I found her very interesting but what interested me most was when she said she was always looking for the icelandic within herself (the thing), her icelandic identity. It shows how important our background and surroundings are to our identity or the shaping of our identity and how our identity/identities influence design.
I also found it very interesting to know that an icelandic designer had gone and worked for all those well renowned designers and even made clothes for the Spice Girls (OMG). I had no idea anyone from Iceland had been designing for those labels, they seem to be so far from us but this makes them a little bit closer to us (icelanders).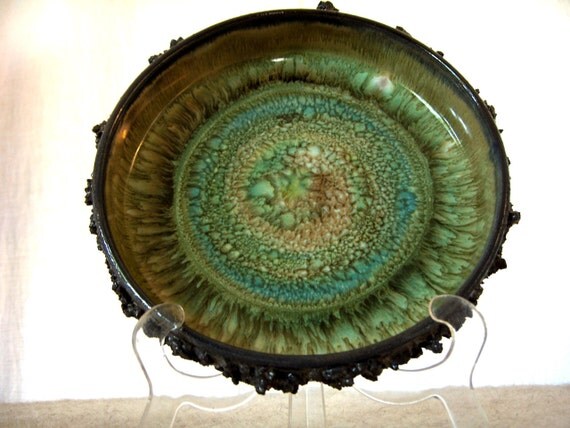 It was really fun to get to know her designs and how she found inspiration for her lines from her father, from the icelandic uniform, from single elements even like knots. She told us about how lava is very influential on icelandic designers and when she said that a lot of Icelandic design popped into my head. My home was full of things made from lava, my father had worked for the company Glit that made a lot of things from it and also my great grandfather. I have a big bowl made from lava from the volcanic eruption in Heimaey in 1973, which my great grandfather made, people don´t really think it is appealing but I love it! (It looks something like this ->)
It is so interesting to think how our surroundings, how nature and small elements around us have an effect on our creations, our likes, our vision of what is beautiful ad what is not. How do our surroundings shape how we see things, how we think something is beautiful but others don´t, what colors, shapes, textures we find beautiful and exciting? What has an effect on us in our surroundings? Do we have to be from that culture to understand the design? How do we see what has an effect on a designer from just looking at their clothes,without reading anything about them or the designer? Does our background have an influence on what we think influenced the designer?
And I´m not going to bore you more with the endless questions that filled my head!! 🙂